4ALL Univerzální hmoždinka
Nylonová rozpěrná hmoždinka nejvyšší kvality pro všechny typy podkladů
Features and benefits
Unikátní vnitřní konstrukce usnadňuje stabilní zavedení šroubu.
Antirotační křidýlka zvyšují přilnavost hmoždinky v široké škále podkladů, včetně měkkých zděných podkladů a v sádrokartonových deskách.
Žebrování ve tvaru zajišťující posílení přilnavosti hmoždinky do otvoru.
Dělící čára pláště  projektovaná způsobem, aby bylo dosáhnuto co největší plochy pro kontakt proti otočení pláště v podkladu z tvárnic a sádrokartonových desek.
Unikátní způsob čtyřsměrného rozšíření, které může být použité pro jakýkoliv typ podkladu.
Masivní konstrukce zajišťuje pevnost po instalaci.
For use also with
Beton

Plná cihla

Plná silikátová cihla

Cihla děrovaná

Duté vápencopískové cihly

Pórobetonová tvárnice

Sádrokartonová deska
Applications
Osvětlení
Nástěnné skříňky
Skříně
Schránky na dopisy
TV držáky
Vybavení koupelny
Elektroinstalace
Nástěnné police
Installation guide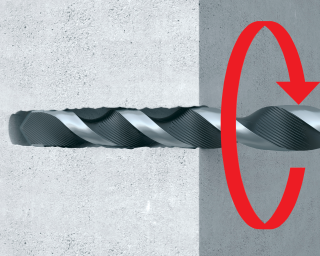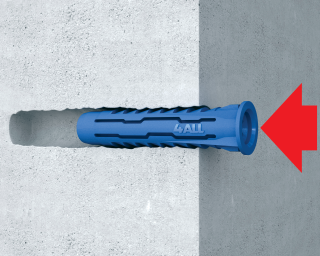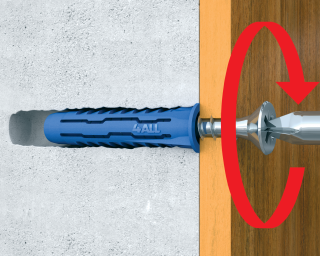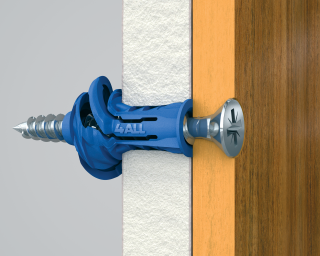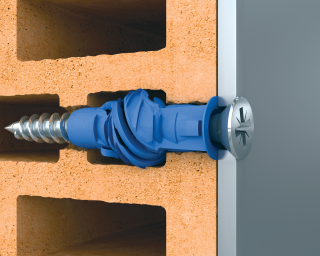 Vrtákem vyvrtáme otvor s doporučeným průměrem.
V otvoru umístíme hmoždinku 4ALL a přitlačíme.
Skrz upevňovaný díl vložíme vrut s doporučeným průměrem do otvoru v hmoždince.
Downloads
Need documents for other product? Visit our Technical Library.
go to library
Kontaktujte nás a informujte se o ceně a dostupnosti produktu
Something went wrong... Please try again.
Vyplňte formulář svými údaji a odešlete žádost o 4ALL Univerzální hmoždinka
Váš dotaz bude zaslán našemu obchodnímu oddělení. Upozorňujeme, že se nejedná o objednávku.