OCS Nerezové samovrtné šrouby
Nerezový samovrtný šroub se speciálně navrženým tvarem vrtáku, který zajišťuje rychlou a bezproblémovou instalaci v kovových konstrukcích zhotovených z profilů ohýbaných za studena.
Features and benefits
Nerezový samovrtný šroub zhotovený technologií BIMETAL.
Povrchově tvrzený závit (trn si uchovává pružnost). Chráněný proti korozi vrstvou pozinku s tloušťkou min. 12 µm. Tvar závitu a jeho výška mají těsnou spojitost s určením samovrtného spojovacího prvku k upevňování profilovaných plechů k ocelové konstrukci.
Těsnicí podložka samovulkanizační EPDM. Odolná vůči teplotním rozdílům a UV záření. Speciální tvar podložky zajišťuje správné umístění těsnicího materiálu na vnější vrstvě upevňovaného materiálu, což zaručuje těsnost spoje.
Speciální agresivní tvar vrtáku je navržený tak, aby zajistil rychlou a bezproblémovou montáž k ocelovému podkladu. S jeho pomocí během jednoho pracovního cyklu provádíme: vrtání, formování závitu a vzájemné upevňování prvků. Ostrá koncovka vrtáku chrání proti jeho klouzání po povrchu kotveného dílu.
Base material
Ocelový profil

Kovové plechy a profily
Applications
Pro kotvení: Nosných a krycích plechů pro střešní a fasádní konstrukce
Installation guide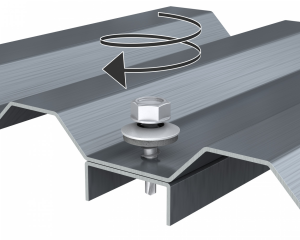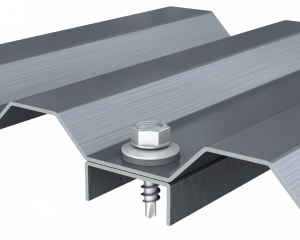 Vrut musí být nainstalovaný v úhlu 90 st. k podkladu.
K montáži používáme magnetickou násadu.
Používáme nízké počáteční otáčky.
Otáčky snížíme, když si všimneme zploštění podložky.
Používáme šroubovák s nastavitelným točivým momentem nebo s omezovačem hloubky. Pozor: nepoužíváme vrtačku.
K montáži používáme šroubovák s otáčkami: 1600–2000 to./min., s nastavitelným utahovacím momentem.
Downloads
Need documents for other product? Visit our Technical Library.
go to library
Kontaktujte nás a informujte se o ceně a dostupnosti produktu
Something went wrong... Please try again.
Vyplňte formulář svými údaji a odešlete žádost o OCS Nerezové samovrtné šrouby
Váš dotaz bude zaslán našemu obchodnímu oddělení. Upozorňujeme, že se nejedná o objednávku.