Nylonová teleskopická hmoždinka k upevňování izolace na plochých střechách. Ve spojení s vhodným vrutem je možno ji použít do všech druhů podkladů.
Features and benefits
Vysoce kvalitní materiál používaný k výrobě teleskopických hmoždinek zaručuje neměnné mechanické vlastnosti po dobu mnoha let. Uchovává si své vlastnosti v široké teplotní škále.
Kulatý talíř eliminuje nutnost polohování během montáže, spodní část spojení s hmoždinkou je navržená tak, aby přenášela velmi značná zatížení během používání střechy.
Speciálně navržená vnitřní část kužele teleskopické hmoždinky umožňuje předchozí montáž umělohmotné hmoždinky s vrutem.
Spodní část teleskopické hmoždinky navržená ve tvaru kužele s optimálním sklonem výrazně ovlivňuje rychlost montážních prací.
Mnohaleté zkušenosti s výrobou kotvicích prvků ke střešní izolaci nám umožňují dosahovat nejlepší výsledky v dynamických i statických zkouškách prováděných renomovanými evropskými výzkumnými a certifikačními ústavy.
Product information
Produkt

Plastová objímka

Upevňovací prvek

Průměr

Délka

Průměr talíře

Minimální tloušťka

Maximální tloušťka

d

L

D

tfix

[mm]

R-GOK-525-N

15.5

525

50

540

790

R-GOK-625-N

15.5

625

50

640

890

R-GOK-725-N

15.5

725

50

740

990
Base material
Beton

Betonová deska plná

Kovové plechy a profily

Stavební dřevo

Lepené dřevo

Deska na bázi dřeva
Applications
Izolačních vrstev na plochých střechách s vrutem
Installation guide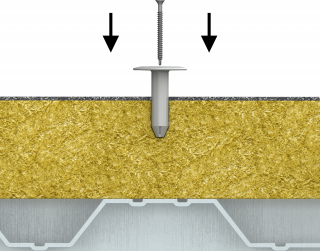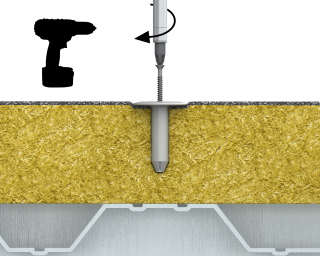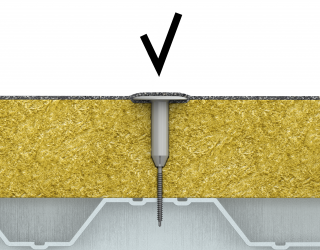 Zvolíme typ vrutu vhodný k podkladu.
Umělohmotné pouzdro umístíme v izolačním materiálu.
Pomocí šroubováku zašroubujeme spojku do podkladu, až do momentu dosažení požadované hloubky.
Downloads
Need documents for other product? Visit our Technical Library.
go to library
Kontaktujte nás a informujte se o ceně a dostupnosti produktu
Something went wrong... Please try again.
Vyplňte formulář svými údaji a odešlete žádost o R-GOK-N
Váš dotaz bude zaslán našemu obchodnímu oddělení. Upozorňujeme, že se nejedná o objednávku.