R-KER-II Hybrid with Post-Installed Rebar
Kotva chemická s vysokou vydatností na bázi vinylesterové pryskyřice, bez styrenu, k použití v trhlinovém i netrhlinovém betonu
Features and benefits
Certifikováno pro použití v kombinaci s armovacími tyčemi v netrhlinovém betonu (ETAG001 Varianta 7)
Velká únosnot pryskyřice zaručuje vysokou účinnost
Možnost použití na suchých a mokrých podkladech nebo v otvorech a podkladech zalitých vodou
Rapidní čas lepení umožňuje rychlé provedení stavebních prací
Za účelem zkrácení délky spojování je možné použít zimní verzi
V případě vrtání kotevních otvorů pomocí vrtáku Dustlessdril odpadá nutnost jejich dalšího čištění
Zkoušky v podmínkách požáru potvrzují požární odolnost až R120
Base material
Beton C12/15-C50/60
Applications
Dodatečné montované spojení prutů
Kotvení vyztužovacích tyčí
Plošiny
Ochranné zábrany
Zábrany
Installation guide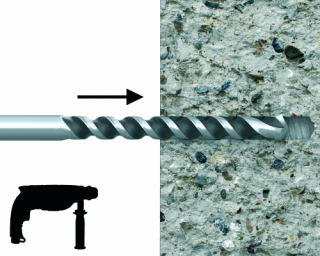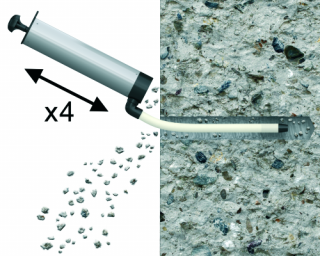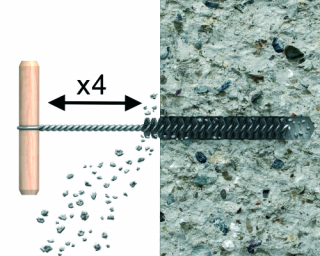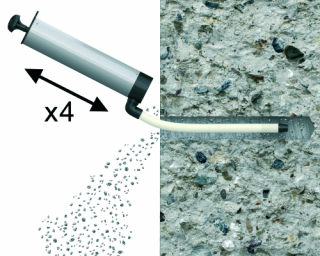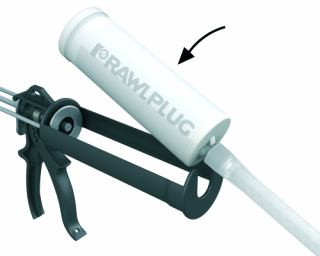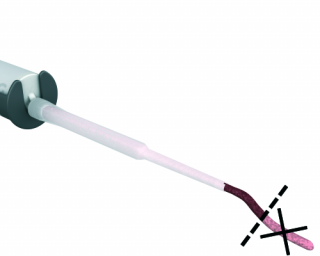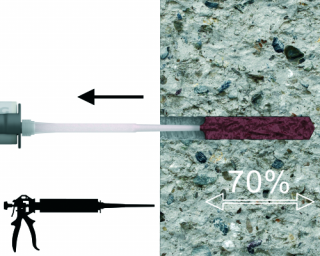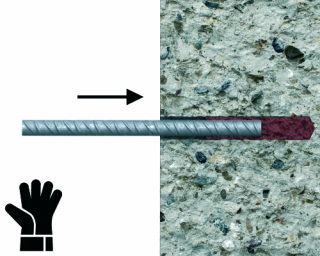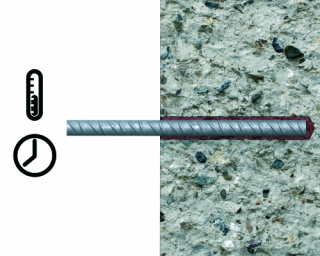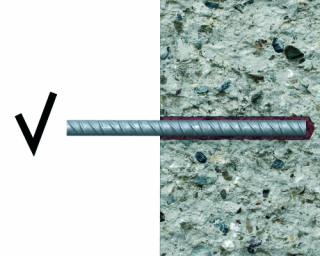 Vrt do požadované průměrů a hloubky pro velikost výztuže je používán.
Odstraníme vrtnou drť z otvoru pomocí čtyřnásobného použití ruční pumpičky a kartáče. Tyto úkony jsou před instalací nutné.
Umístíme kartridži v dávkovači a připevníme míchací trysku
Na začátku dávkování z nového obalu odstraníme část pryskyřice, tak, abychom získali stejnou barvu směsi.
Pryskyřicí vyplníme 2/3 hloubky otvoru ode dna.
Okamžitě vložte výztuhy, pomalu s lehkým točivým pohybem. Odstraňte veškerou přebývající pryskyřici kolem otvoru, než se nastaví a nechá v klidu, dokud nevytvrdne. Připojte přípravek a utáhněte matici na požadovaný moment.
Downloads
Need documents for other product? Visit our Technical Library.
go to library
Kontaktujte nás a informujte se o ceně a dostupnosti produktu
Something went wrong... Please try again.
Vyplňte formulář svými údaji a odešlete žádost o R-KER-II Hybrid with Post-Installed Rebar
Váš dotaz bude zaslán našemu obchodnímu oddělení. Upozorňujeme, že se nejedná o objednávku.