R-KEX II kotva chemická epoxidová se závitovými tyčemi
Vysoce jakostní chemická kotva na bázi epoxidové pryskyřice 3:1 schválená pro beton trhlinový a netrhlinový.  Doporučená pro hluboké kotvení.
Features and benefits
Odobreno za spotřebiče s výrobními šipkami za spotřebiče s napuknutým a nepuknutým betonem (EAD 330499-01-0601), radni vijek do 100 bohů
Nejsilnější pryskyřice ve třídě epoxidové pryskyřice
Možnost použití na suchých a mokrých podkladech nebo v otvorech a podkladech zalitých vodou
Minimální smrštění poskytuje možnost použití v otvorech vrtaných diamantových vrtákem
Velmi vysoká chemická odolnost - vhodné pro aplikace vystavené působení různých činidel (průmyslové nebo mořské prostředí)
Prodloužená doba lepení zajišťuje snadnou instalaci kovových komponentů (až 30 min. Do 20 ° C)
Pro použití v teplotách nad bodem mrazu
Base material
Beton s trhlinami C20/25-C50/60

Beton bez trhlin C20/25-C50/60
Applications
Ochranné zábrany
Bednicí podpěry
Ocelová kontrukce
Pouliční lampy
Zavěšené fasády
Regálové systémy
Zábradlí
Zábrany
Zpevňování fasád
Stavební vzpěry
Stroje
Plošiny
Installation guide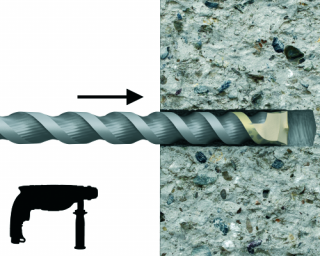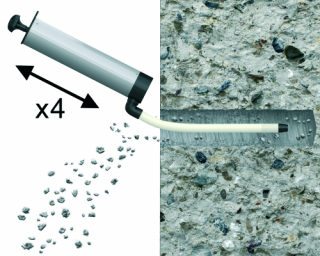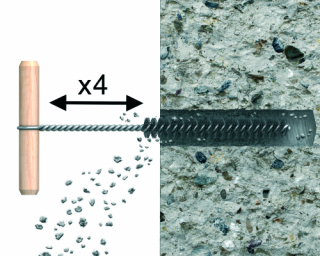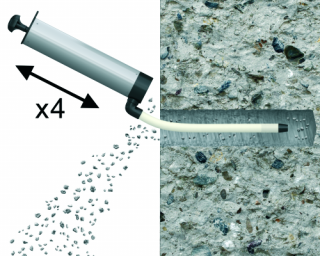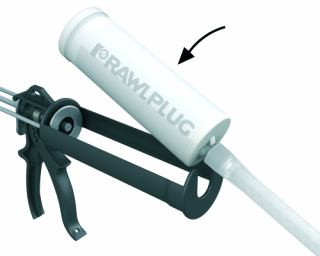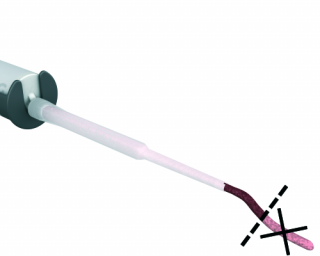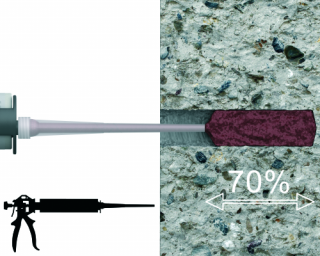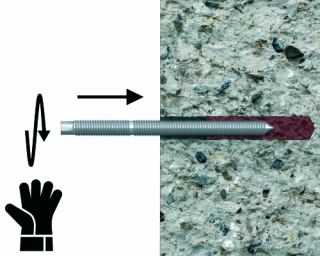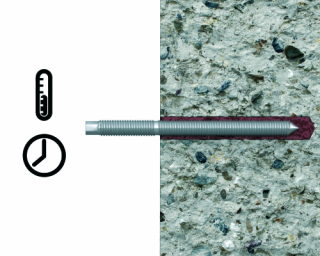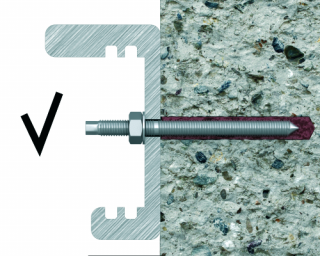 Vyvrtáme otvor vhodného průměru a hloubky
Odstraníme vrtnou drť z otvoru pomocí opakovaného použití ruční pumpičky a kartáče. Tyto úkony jsou před instalací nutné.
Umístíme kartridži v dávkovači a připevníme míchací trysku
Na začátku dávkování z nového obalu odstraníme část pryskyřice, tak, abychom získali stejnou barvu směsi.
Pryskyřicí vyplníme 2/3 hloubky otvoru ode dna.
Ihned po aplikaci vložte pomalým točivým pohybem výztuhu do otvoru. Odstraňte přebytečnou praskyřicí.
Nasadíme kotvený díl a dotáhneme matici na požadovanou hodnotu utahovcího momentu.
Downloads
Need documents for other product? Visit our Technical Library.
go to library
Kontaktujte nás a informujte se o ceně a dostupnosti produktu
Something went wrong... Please try again.
Vyplňte formulář svými údaji a odešlete žádost o R-KEX II kotva chemická epoxidová se závitovými tyčemi
Váš dotaz bude zaslán našemu obchodnímu oddělení. Upozorňujeme, že se nejedná o objednávku.