R-ORR-63/70 Zinc flake self-drilling screws for composite panels up to 18mm
Speciální antikorozní zinkový povlak pro vysoce účinnou ochranu
Features and benefits
Povrchově tvrzený závit. Chráněný antikorozním povlakem nejvyšší kvality zaručujícím odolnost 15 cyklů Kesternicha.
Barevný polyesterová ochranný povlak s tloušťkou 45 až 50 um (RAL, NCS, RR), poskytuje další ochranu proti korozi. Různé barvy jsou k dispozici, aby vyhovoval všem plechovým variantám. UV stabilizátory zajistí kvalitu barev po dlouhou dobu používání.
Tvar závitu a jeho výška mají těsnou spojitost s určením samovrtného spojovacího prvku k upevňování sendvičových panelů k ocelové konstrukci.
Dva druhy závitu: první je určený k upevňování k ocelové konstrukci, druhý, s větším skokem pod hlavou šroubu chrání proti promáčknutí vnější vrstvy panelu a pomáhá k utěsnění spoje.
Těsnicí podložka samovulkanizační EPDM. Odolná vůči teplotním rozdílům a UV záření.  Speciální tvar podložky zajišťuje správné umístění těsnicího materiálu na vnější vrstvě upevňovaného materiálu, což zaručuje těsnost spoje.
Speciální pozinkovaný antikorozní ochranný potah
Product information
Rozměry

Produkt

Šroub

Upevňovací prvek

Max. tloušťka provrtání

Velikost podložky

Průměr

Délka

Velikost hlavy šroubu

Max. Tloušťka s podložkou

d

d1

l

S

tfix

-

-

[mm]

[mm]

[mm]

[mm]

[mm]

[mm]

[mm]

Ø6.3/7.0

R-ORR-63/70109A19

6.3

7

109

8

60

18

19

R-ORR-63/70129A19

6.3

7

129

8

80

18

19

R-ORR-63/70149A19

6.3

7

149

8

100

18

19

R-ORR-63/70169A19

6.3

7

169

8

120

18

19

R-ORR-63/70179A19

6.3

7

179

8

130

18

19

R-ORR-63/70199A19

6.3

7

199

8

150

18

19

R-ORR-63/70219A19

6.3

7

219

8

170

18

19

R-ORR-63/70249A19

6.3

7

249

8

200

18

19

R-ORR-63/70259A19

6.3

7

259

8

210

18

19

R-ORR-63/70269A19

6.3

7

269

8

220

18

19

R-ORR-63/70309A19

6.3

7

309

8

260

18

19
Base material
Ocelový profil
Installation guide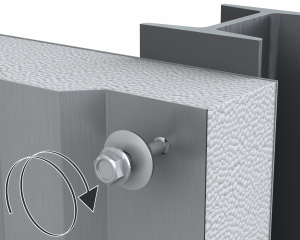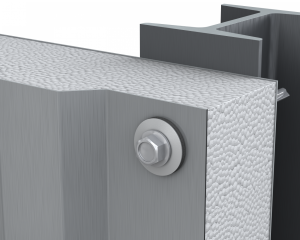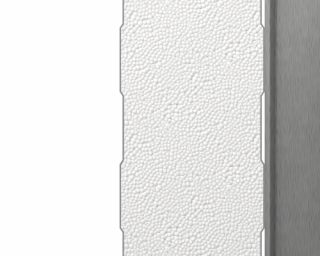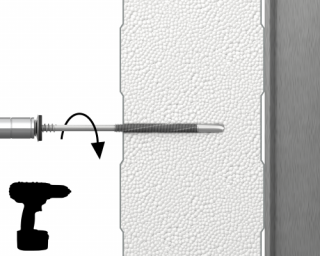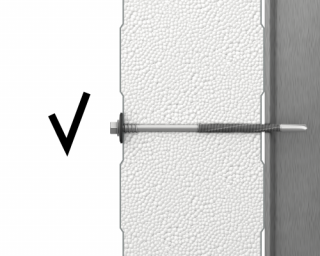 Vrut musí být nainstalovaný v úhlu 90 st. k podkladu.
K montáži používáme magnetickou násadu.
Používáme nízké počáteční otáčky.
Otáčky snížíme, když si všimneme zploštění podložky.
Používáme šroubovák s nastavitelným točivým momentem nebo s omezovačem hloubky. Pozor: nepoužíváme vrtačku.
K montáži používáme šroubovák s otáčkami: 1600–2000 to./min., s nastavitelným utahovacím momentem.
Installation data
Rozměry

Ø6.3/7.0

Velikost klíče

Sw

[mm]

8

Min. tloušťka podloží

hmin

[mm]

8

Max. Tloušťka substrátu

hmax

[mm]

18

Minimální vzdálenost

smin

[mm]

30

Min. vzdálenost od okraje

cmin

[mm]

10

Průměr vrutu

d

[mm]

6.3/7.0
Downloads
Need documents for other product? Visit our Technical Library.
go to library
Kontaktujte nás a informujte se o ceně a dostupnosti produktu
Something went wrong... Please try again.
Vyplňte formulář svými údaji a odešlete žádost o R-ORR-63/70 Zinc flake self-drilling screws for composite panels up to 18mm
Váš dotaz bude zaslán našemu obchodnímu oddělení. Upozorňujeme, že se nejedná o objednávku.